This room is in the downtown area of ​​Otaru and is located in the place where you feel the living feeling of Otaru people. Because it is in downtown, there are plenty of eateries and it will not endure for meals. Although there is no parking lot, there is coin parking at least. Depending on the season, it is around 600 yen to 800 yen in 24 hours. I do not live here, but I'd like to enjoy my favorite city Otaru as much as I can, so if you have any troubles, please tell us, because it is me of the local people, the shops you know, information I think that I can tell you. . The room is one living room and one bedroom. I have two pairs of futon in the bedroom of the bedroom tatami. On the first floor there is a restaurant open until 11 o'clock and the room is the second floor. It is not a kind of hotel but a simple room, but it is a clean room. The scenery from the window is bad because it is in downtown. Since there are stairs until you go up to the room, we do not recommend it for family with children.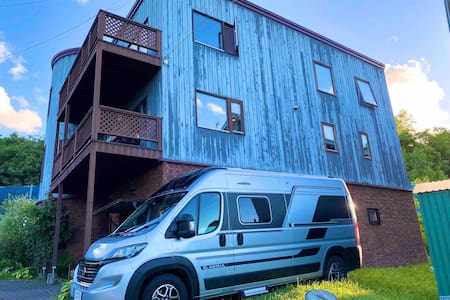 SUPERHOST
Seomra príobháideach · 2 aoi · 2 leaba · 1.5 seomra folctha comhroinnte
海の見える開放感ある一軒家 A house with a view of the sea
It's convenient for the Sapporo center and Otaru sightseeing! 札幌中心部と小樽観光に便利! I will pick you up at the nearest Zenibako station 最寄りの銭函駅にお迎えにいきます。 和風のお部屋は6畳、最大2名までお布団でお休み頂けます。(3名以上はもう一つお部屋があります。リスティングをチェックしてください。 Equipped with an air purifier that can remove coronavirus. コロナウィルスを除去できる空気清浄機完備してます。
Árasán iomlán · 3 aoi · 3 leaba · 1 seomra folctha
Near Otaru Canal/Sushiya-dori & Hanazono entertainment district walking distance/Indoor barrier-free/Max3ppl/Free parking/WIFI/D3
It has a panoramic view of Otaru Port and is right next to Suitengu Shrine which is famous for its cherry blossoms! The inside of the building is barrier-free and you can use the elevator. It's a nice property surrounded by greenery. I would be happy if I could help you enjoy your stay in Otaru. FREE FOR USE: WIFI, washing machine/w detergent, hairdryer and towels BEDS: One slide bed(Evaquient to 2 single beds,) One single sofa-bed for 3 people. ACCESS: 850m from JR Sta Nearby: Suitengu Shrine, Otaru Port Price: Children under 2 years old are free.